---
English language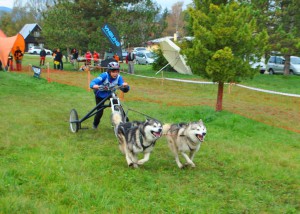 My name is Samuel Horbaľ. I live in a nice area of Hight Tatra in the village Kamienka. My love to the dogs arised when my father bought my first dog. I was very very happy. My husky SWAN was growing as well as my ambition to know about this breed as much as possible. I began to read books and was looking up some corresponding articles in magazines and on the internet. Getting up in the early morning, total care and devoting all my free time didn´t discourage me, but on the contrary. My family understood which direction my life will take. Destiny brought to me a very good man and a successful musher Vladimír Morávek from Veľký Lipník who introduced me to the secrets of mushing. I was so much devoted that I had more and more a wish to try a real race but it was not possible with my four- legged friend Swan as we had no papers needed for this kind of race. My parents decided that I need the dogs with papers as I wish a real race. Vladimir who saw my ambition and desire to continue in my dream decided to find some dogs for me. So I adopted two Alaska malamuts – 6 years old Anouk and 3 years old Balta, as their master couldn´t take care of them any more. So he gave me them as a gift. And here began my care of 3 dogs! As I have a great family, they all were helping me. However it was not easy as the dogs had to get used to the new ambiance, new unknown people.my family, my friends, but everything is possible when we have a will!!! My wish to survive an adventure was big : it was to go racing with such great breeds. As we became friends with the dogs very fast, i began to train with them according to the advice of my new trainer Vladimir who had a big experience and successes in this sport. The early morning getting up at 6 o´ clock – training , trekking in the evening. I was training on the bike, scooter, four-wheeled vehicle, sleigh and also running. I liked it so that my trainer registered me to a first real race in Mošovce, race on the scooter with two dogs. I was beaten on the 4th place as my dogs became confused on the road. Another race followed: Revištský okruh (Circle of Revište) october 2013 where I was first and foremost. At another race in Spišská Nová Ves I was again first and I also won the title Master of Slovakia 2013 in the category D2. Then on the race off snow in Oravská Lesná I won a 3th place. Later I attended on the races in Poland Lubieszow and in Czech Republic in Radikov, where I won the 4th place.
Start of season 2014
First place in the category D2 in Mošovce
Championship Slovakia in Spišská Nová Ves - First place in the category D2
Championship Europe in Vének (Hungary) - First place in the category D2 Junior and second place in the category D2 senior
First place in the category D2 - sledge in Krahule
Championship Slovakia in Ľubovnianske kúpele - Second place in category D 2
Currently I am a member of the club SKSJP. My story doesn´t finish and I continue although this is a very cost demanding hobby.

My three dogs are meaning of my life. They are my best friends!!!
Samuel Horbaľ
musher :-)
We are looking for sponsors for young musher
TATRA BANKA, SAMUEL HORBAĽ 2919651668/1100

IBAN CODE SK5111000000002919651668

SWIFT:TATR SK BX

ADDRESS: KAMIENKA, SLOVAKIA